Communicate your brand in a consistent and secure manner, with both your B2B e B2C customers
Whether it is sporty, luxury or utilitarian, the gist is the same.
Vehicles need photos, videos, product data and documents which describe them, contextualise them and position them in the user's eyes.
What's more, also considering the digital nature and global dimensions of the market, communications between the headquarters and the teams of the various foreign divisions and dealers in the different countries where the brand has a presence must be fast, constant and effective.
THRON PLATFORM makes all this possible.
How? By centralising all digital assets and supporting their entire lifecycle: from their management to their delivery on all touchpoints, supporting B2B (for example the various dealers) and B2C marketing strategies of any language and type: global, local and glocal.
Thron FOr AUTOMOTIVE
A single platform for documents, data, images and video of every vehicle
THRON PLATFORM is the single point of reference for digital assets and product data.
Manage photos, 3D images and videos created by the internal marketing team, designers, photographers and external agencies from the platform.
You can also associate with each piece of content the product data and documents which contain technical specifications and descriptions – such as acceleration, engine size and emissions data – which would otherwise risk being spread between worksheets, the ERP, PIM and PLM.
The advantage is two-fold.
Each team has a single source of truth for any asset or piece of information, eliminating the time required to find what they need.
What's more, a centralised hub opens the doors to faster communications and sales processes, both to end customers and distributors.
Thron FOR automotive
Hit the accelerator and shatter the time to market for local and global campaigns
Publish the most up-to-date version of each piece of multimedia content and product information on all your channels.
With Brand Portal, you also make instant and automatic dialogue with divisions, dealers, B2B customers and press offices in the countries where your brand is present.
Share with them the most up-to-date version of shots, templates and data. Enjoy the assurance of consistent brand expression in any corner of the world.
THRON's CDN and elastic architecture always guarantee the highest possible levels of performance, even in the case of peaks of traffic typical of the days leading up to and following the unveiling of new vehicles.
Thron FOr AUTOMOTIVE
Put a seatbelt on your digital assets and keep your brand safe
THRON PLATFORM is a digital safe for your content because it allows you to protect your brand from unauthorised or late access.
Precisely define each digital guest's access and editing rights.
Share content with your partners, establishing the start and end dates in which their access is valid, in order to prevent the circulation of obsolete pictures and video, or leaking of imminent model launches.
Exploit the domain protection function to establish a list of the only domains authorised to deliver the content present on THRON.

Automotive brands love THRON because…
Creativity combines with collaboration
With the integrated workflows, you can approve and distribute content from agencies on the fly.
The brand portal is integrated
Automatically share different assets with your dealers and avoid manual work.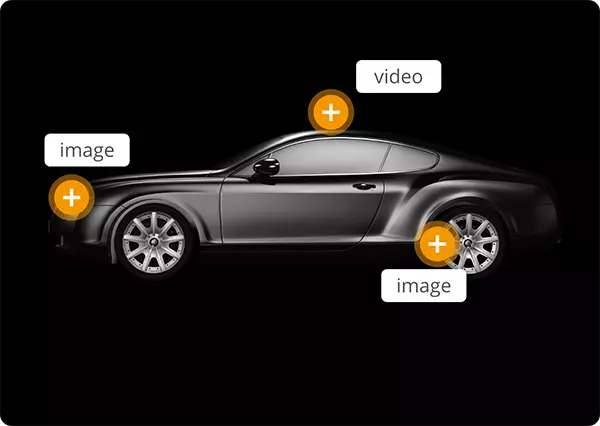 Make all assets richer with hotspots
A focus on the components of the engine or the vehicle interior? The UX really kicks into gear now.
---
"Of all the things we revolutionised with THRON, there are two. Asset management has become governance. And the dialogue with B2B and B2C customers is agile".
Marketing Manager
Automotive Company
"With Brand Portal, teams and partners count on up-to-date and differentiated brand materials by language and market".
Chief Operating Officer
Automotive Company
"People used to spend a lot of time looking for images for B2B customers, who sometimes had to wait for days. With THRON everything is done in two clicks".
Chief Marketing Officer
Automotive Company
Be amazed at how you can rule your assets and products
We have been working side by side with major automotive brands for quite some time.
Want to know what we have learnt?
A single platform. For all teams