Save time and automate the association data-content
Photos of products, accessories or components, promotional videos or tutorials for support and service, or technical documentation such as guides, instructions and manuals.
Digital assets are of great strategic importance for a manufacturing company because they are the foundations of the communication and sales strategies to the B2B and B2C market.
With THRON PLATFORM you can import any content and product data into a single platform, associating them with each other in a mass process and finding what you need in just seconds.
Constant dialogue with tools such as ERP, PLM, websites, portals, e-commerce platforms and marketplaces makes the flow of information and digital assets constant.
Grease the wheels of your digital processes: populate catalogues on the fly, accelerate the time to market for distributors and end customers, and strengthen brand consistency.
Thron FOr MANUFACTURING
Imagine a digital warehouse for all your product data and digital assets
With THRON PLATFORM, you can univocally centralise all multimedia content and connect each piece with the data of the products they represent.
Perform mass associations of product information and assets using EAN codes.
Avoid manual enrichment work, compilation errors, and always find what you need in just seconds.
Establish the start and end dates for the validity of each asset in detail, as well as rights and permissions, defining which users (or teams) can upload, view, modify, enrich and download the content on the platform.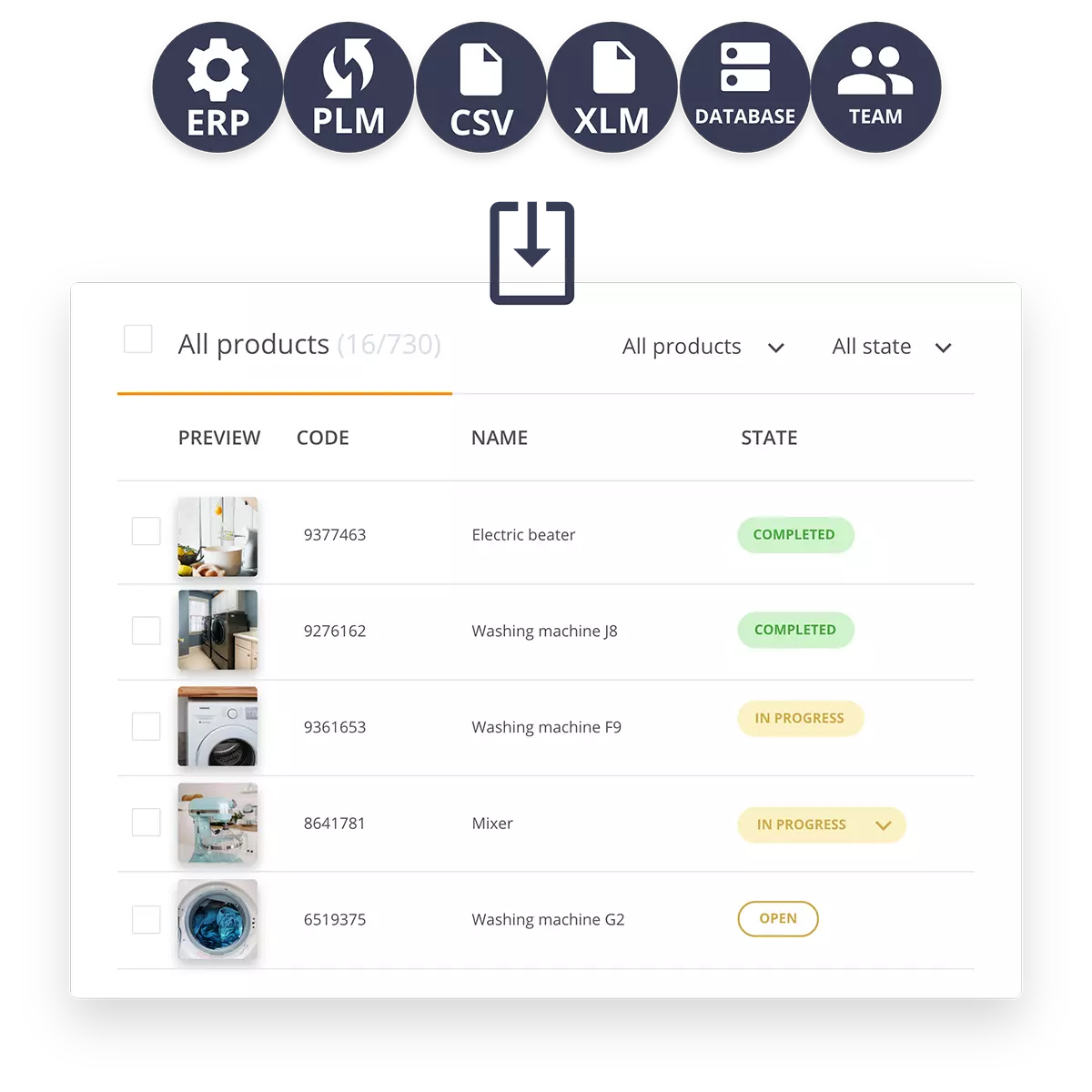 Thron FOr MANUFACTURING
A single platform, infinite catalogues for every requirement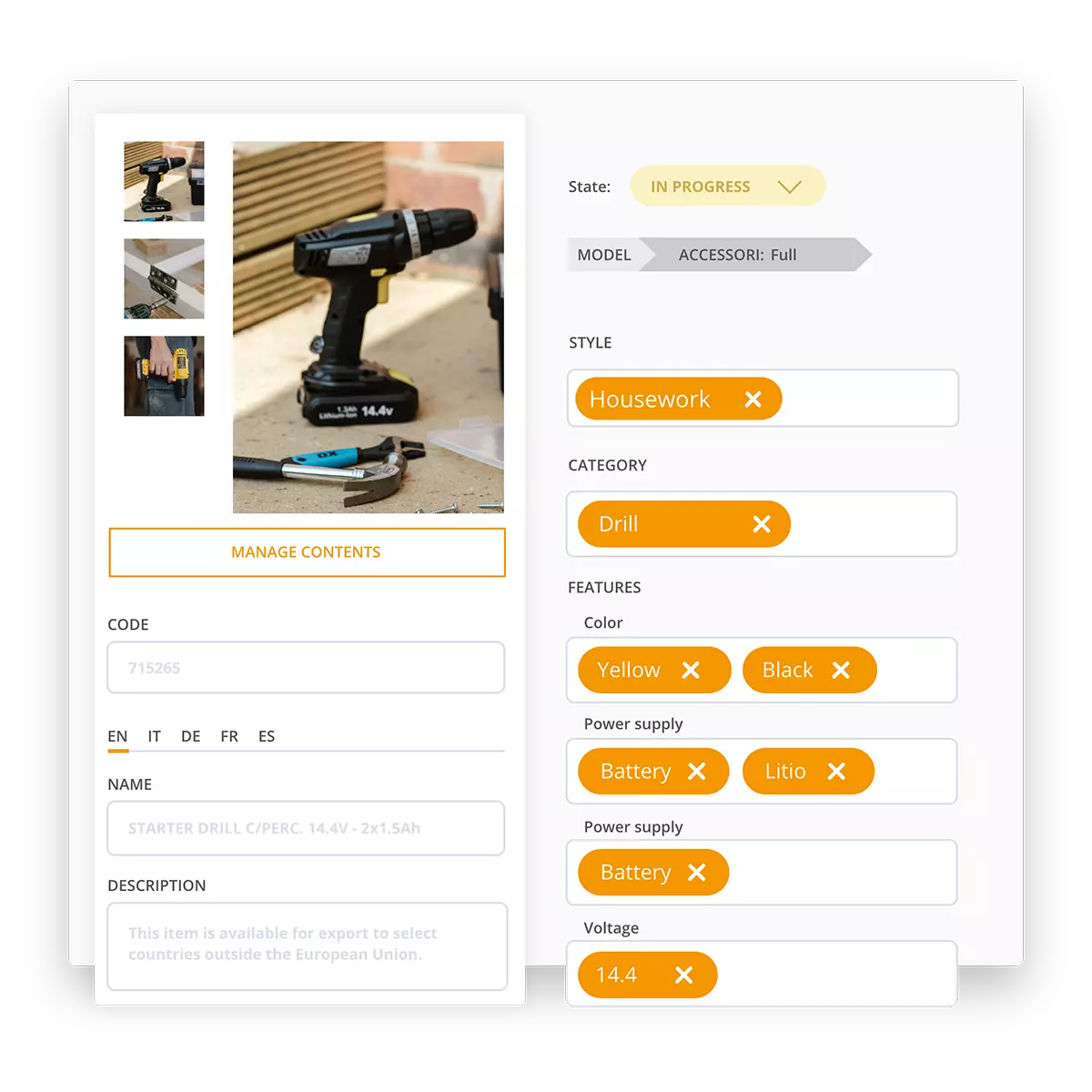 Components, finished products, accessories, spare parts, installation guides.
In THRON PLATFORM, you can manage all the catalogues you require separately, in accordance with your requirements, on a unique platform.
Design and take part in no-code workflows to collaborate with internal teams and creative agencies, approving the assets which perfectly express your products.
For each of them, you define the ideal taxonomy and enrich them with metadata and descriptions, as well as images, video or technical/marketing documentation.
Thron FOr MANUFACTURING
Data and content which is always consistent, from the ERP to the B2B and B2C sales channels
The platform allows you to rapidly export any digital asset, from multimedia content to product information.
Download files ready for import into the tools you use to lay out your catalogues and brochures in just seconds.
Through the integrated brand portal, you collaborate with retailers, distributors or press offices and share with them updated and consistent templates, content and data.
The platform also communicates with any B2C channel, for example online configurators, websites, e-commerce platforms or marketplaces.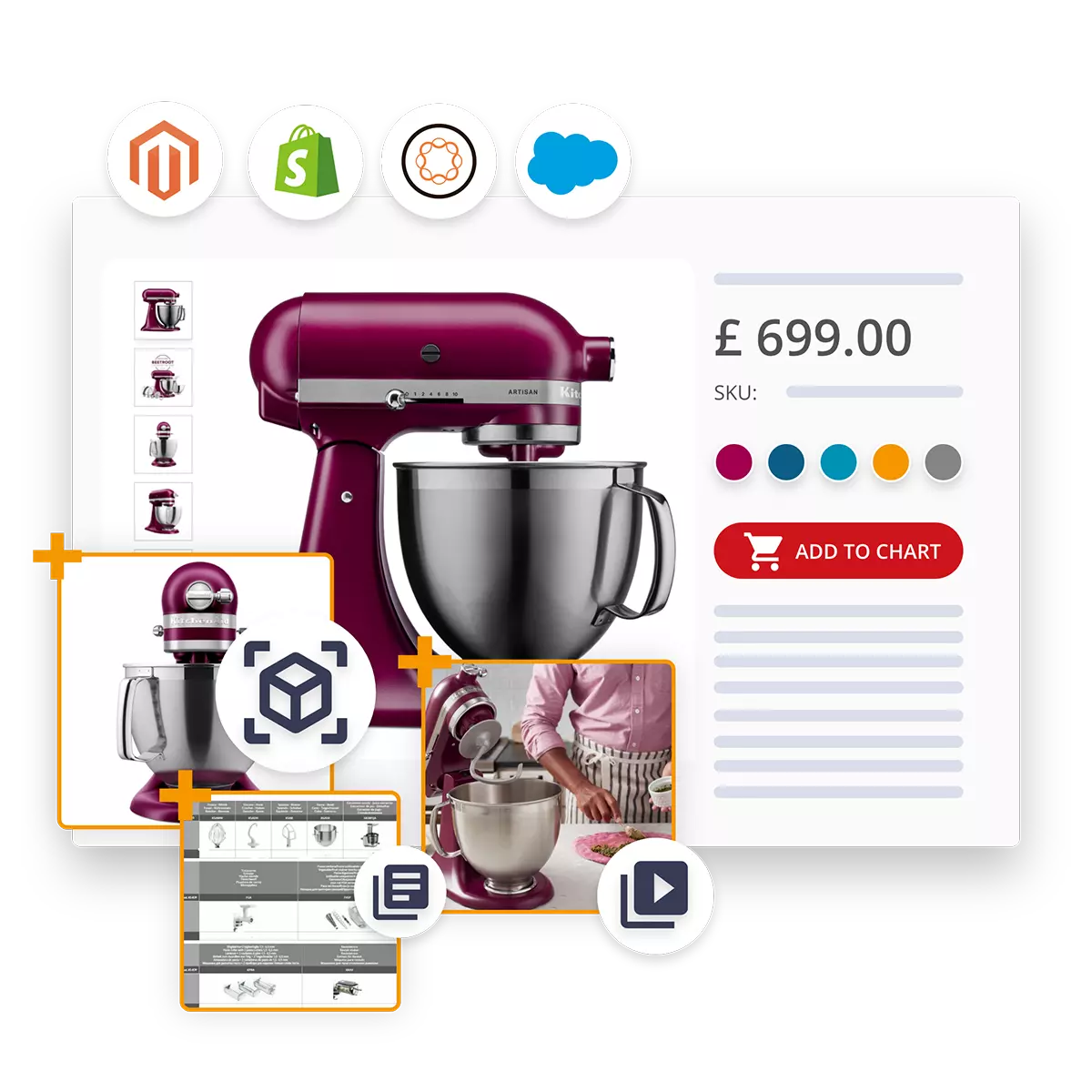 Manufacturing brands love THRON because…
Sharing externally is immediate
It is secure.
Whether it is a single asset or many, via the integrated portal.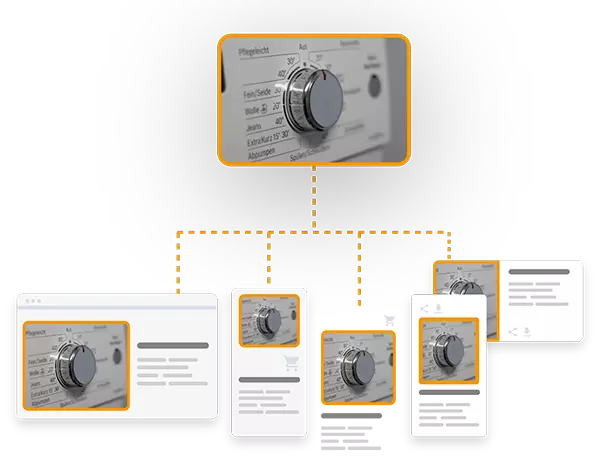 Asset optimisation is dynamic
The intelligent editor adapts each asset on the basis of the channel, eliminating manual work.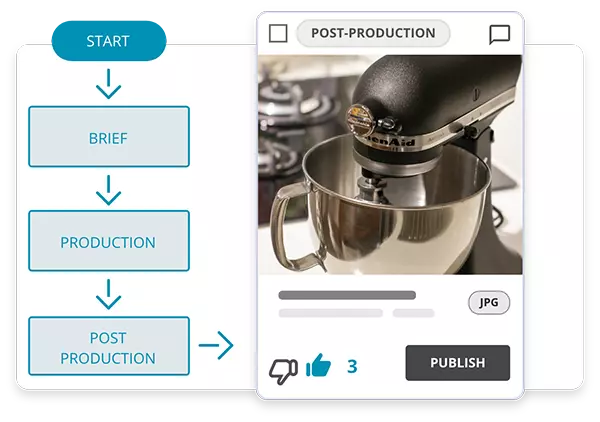 Collaboration takes centre stage
Create agile, no-code collaboration flows, involving internal or external teams.
---
"With THRON we have reduced the time needed to edit and publish images on e-commerce by 66 per cent. And by 99 per cent that for replacing incorrect or obsolete files".
KitchenAid
Whirlpool Group Brand
"Adopting a lifecycle approach to digital assets has enabled us to increase speed to market and improve content governance".
Chief Information Officer
Manufacturing Company
"Thanks to Brand Portal, 1,700 employees and 480 distributors worldwide count on a single source of truth for multimedia content and product data".
Marketing Manager
Manufacturing Company
"By linking the data of each tile to the projects in which it was used, we have elevated the architects' UX and turbocharged the processes".
Chief Operating Officer
Manufacturing Company
"With THRON PLATFORM we manage all the data of our products and their variants as well as the multimedia content representing them with one tool".
IT Manager
Manufacturing Company
"THRON PIM got us into gear towards product and content governance of our five brands, from ERP to B2B and B2C channels".
Trade Marketing Manager
Manufacturing Company
We are ready to tell you the secrets of DAM and PIM for manufacturing
VScrews, blenders or paste. B2B, B2C or both. Every manufacturing company is different.
We know this, because we work alongside so many of them every day. But the starting point is the same for all of them: centralising digital assets and product data.
Una piattaforma unica. Per tutti i team