The dawn of 2023 is fading.
That is why, after having listed the first four of the 7 keyword of 2023 for Digital Asset Management in the previous article, in the next few lines we will discover the other three.
After Cloud, Digital Ecosystems, MarTech and No-Code, it is time to cast our eyes towards the future by governing the challenges of the months to come.
AI
"A discipline that studies whether and how the most complex mental processes can be reproduced using a computer. This research is developed along two complementary paths: on the one hand, artificial intelligence seeks to bring the functioning of computers closer to the capabilities of human intelligence, and on the other it uses computer simulations to make hypotheses about the mechanisms used by the human mind".
(Treccani)
According to Gartner1, the number of companies using AI services increased by 270% between 2015 and 2019.
According to Grand View Research2 the AI market will grow at an average annual rate of more than 38% until 2030.
This growth rate is also confirmed by Omdia, as shown in the graph3.
Global artificial intelligence software market revenue
Assets are growing at impressive volumes and artificial intelligence is expected to play an increasingly decisive role. And in 2023 this trend is likely to strengthen.
But what impacts can have AI on the lifecycle of a digital asset?
In the last period, the creative role of AI is constantly being talked about.
The second half of 2022 saw an increasing use of automated contents generators.
Monthly website visits: AI image generators VS stock photo sites (Source: Similarweb)
Since July, in fact, we can see in the graph4 the rise of AI tools for image creation such as OpenAI and MidJourney.
Is this a flash in the pan? Wes hall see, but probably not.
In any case, artificial intelligence is inextricably linked with the world of Digital Asset Management, and not only in the creation phase.
THRON's AI engines, for example, tags contents, i.e. automatically associate a set of keywords with each assets, making it easier to classify, search and distribute it more efficiently.
Another features that some DAM software can rely on thanks to AI is speech recognition, useful for instance to automatically subtitle audio and video contents, and offer a more complete and inclusive user experience, also looking ahead to the entry into force of the European Accessibility Act5.
1 Gartner Survey shows 37% of organizations have implemented AI in some form, 2019, Gartner.
2 Artificial Intelligence Market Size, Share & Trends Analysis report by solution (…), 2021, Grand View Research.
3 Artificial Intelligence Software Market Forecasts, 2020, Omdia.
4 AI, 2022, Scott Galloway.
5 The European Accessibility Act aims to facilitate access to IT products and systems for people with disabilities by stipulating that IT solutions have specific requirements to ensure that everyone can use them properly. It will come into force from June 2025.
Customer Experience
"The customer's perceptions and related feelings caused by the one-off and cumulative effect of interactions with a supplier's employees, systems, channels or products".
(Gartner)
Cloud, SaaS, digital ecosystems, martech, no-code and AI tools: all the keywords mentioned so far relate to the world of technology.
Yet each of them is governed by organisations and, in particular, by IT, digital and marketing teams, with a single objective: satisfying their customers.
Customer experience, in fact, is one of the aspects that has the greatest impact on an organisation's business.
It is a timeless rule that, while discovering new facets with the evolution of business touchpoints, never changes, regardless of whether we are talking about offline or online, B2C or B2B channels.
In fact, 96% of customers believe that their customer experience has a crucial impact in terms of brand loyalty and 89% say they are ready to change brands after an unpleasant experience6.
B2B customers seem to be no less sensitive in this respect. Personalising the user experience of an e-commerce business can increase turnover by 30% 7.
But what is the link between CX and DAM? How can Digital Asset Management software positively (or negatively) influence a customer's experience?
Far from being simple digital shop windows, digital channels are increasingly complex touchpoints, potentially enriching the shopping experience.
In this context, DAM software cannot just publish images and videos.
Among THRON's various functionalities, the Real Time Image Editor optimises the attributes of each distributed asset according to the channel and the user's conditions of use (e.g. connection, device used, etc.).
Objective? To guarantee a top experience for each one.
Moreover, thanks to content analytics features, THRON monitors users' interests, analyses them and suggests to each of them the perfect contents based on their preferences.
This is also why THRON is a Digital Asset Management software that strongly impacts the customer experience, be it B2B or B2C.
Hybrid (environment)
"Mixed reality, also called hybrid reality, is the mixing of the digital and virtual worlds to produce new environments and visualisations in which virtual and physical objects coexist and interact with each other in real time. Mixed reality occurs not only in the physical world or in the virtual world, but is a true mixture of physical and virtual reality. In the common imagination, it is often referred to as virtual reality, or VR, when in fact the latter is only one part, one aspect, of mixed reality".
(Wikipedia)
Is the customer experience more physical or digital?
The figure, at least for now, seems to be drawn. And the answer is neither.
74% of consumers today prefer a hybrid customer journey, combining physical and digital experiences8.

McKinsey9 predicts that in 2024 hybrid sales will be a major business strategy for companies.
The hybrid experience is also a topic that closely touches Digital Asset Management software, which will have to evolve to dialogue with new touchpoints and distribute contents in new ways.
We at THRON – in collaboration with universities, institutions and other companies – have been working for months on Hybrid, a project aimed at creating a new platform that allows brands to create a virtual showroom, enhancing the retail experience and opening the door to new digital business scenarios.
8 STUDY: 74% of Consumers Expect a Hybrid Customer Journey, 2021, Uberall.
9 The future of B2B sales is hybrid, 2022, McKinsey & Company.
Okay, but… the metaverse? And what about live shopping?
The diagram below summarises the 7 keywords listed in this and the previous article.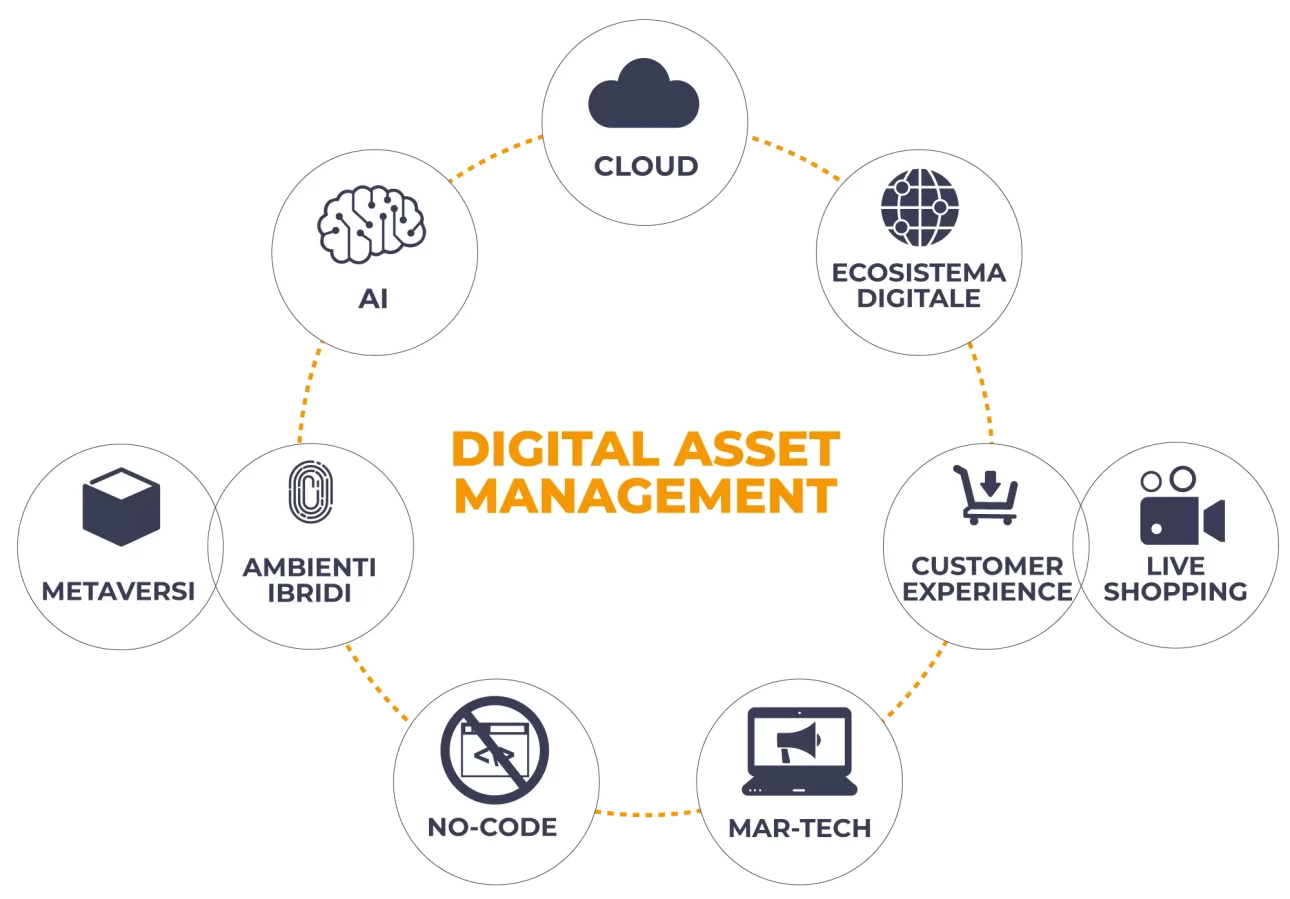 Probably, speaking of Digital Asset Management, some readers would have expected as keywords hot topics in recent months, such as the metaverse and live shopping.
We at THRON felt we shouldn't include them in our list because, at least as far as 2023 is concerned, our pragmatic soul urges us to consider them a little too immature to talk about them in a concrete way.
Watch out, though.
Metaverse(s) (yes, it is more correct to speak of it in the plural) are becoming an increasingly important reality, just like live shopping, in which 70% of European consumers have an interest and 100 million users on the old continent could exploit it to make purchases as early as 202410.
That is why, in our summary, we have opted to include both of these topics, which currently orbit around the world of hybrid realities and customer experience respectively.
Who knows, if in 2024 they will be at the centre of the 7 keywords for Digital Asset Management.
10 Ecommerce live, nuova frontiera dello shopping online, 2021, Ansa via Forrester.