As well as being an opportunity to think about good intentions, a new year renews our awareness and vision of our surroundings.
This is also the case for us at THRON – who, while not being the kind of people who like to make a big fuss over an extra digit – love to cast our gaze into the future, to take charge and govern the months to come.
So, after analysing the trends of the last few weeks, we have compiled a list of the keywords that are likely to be the stars of this 2023 on the Digital Asset Management side.
In this article you will find the first four, click here for the other three.
Cloud (and SaaS)
"The cloud, literally 'computer cloud', is the term used to refer to technology that allows data to be processed and stored on a network. (…) It allows access to applications and data stored on remote hardware instead of locally. (…) It can provide remote hardware (IaaS – Infrastructure as a Service), remote software platforms (PaaS – Platform as a Service) or remote software (SaaS – Software as a Service)."
(Translated from Italian – Treccani)
Let's start with the most famous of all the keywords.
The most obvious? Perhaps, but mentioning it is only right because the cloud grew in 2022, especially in SaaS.
According to BetterCloud1 each company used an average of 130 SaaS tools in 2022, a figure that is 18% higher than in 2021 and 1,525% higher than in 2015, when an average of only eight were used.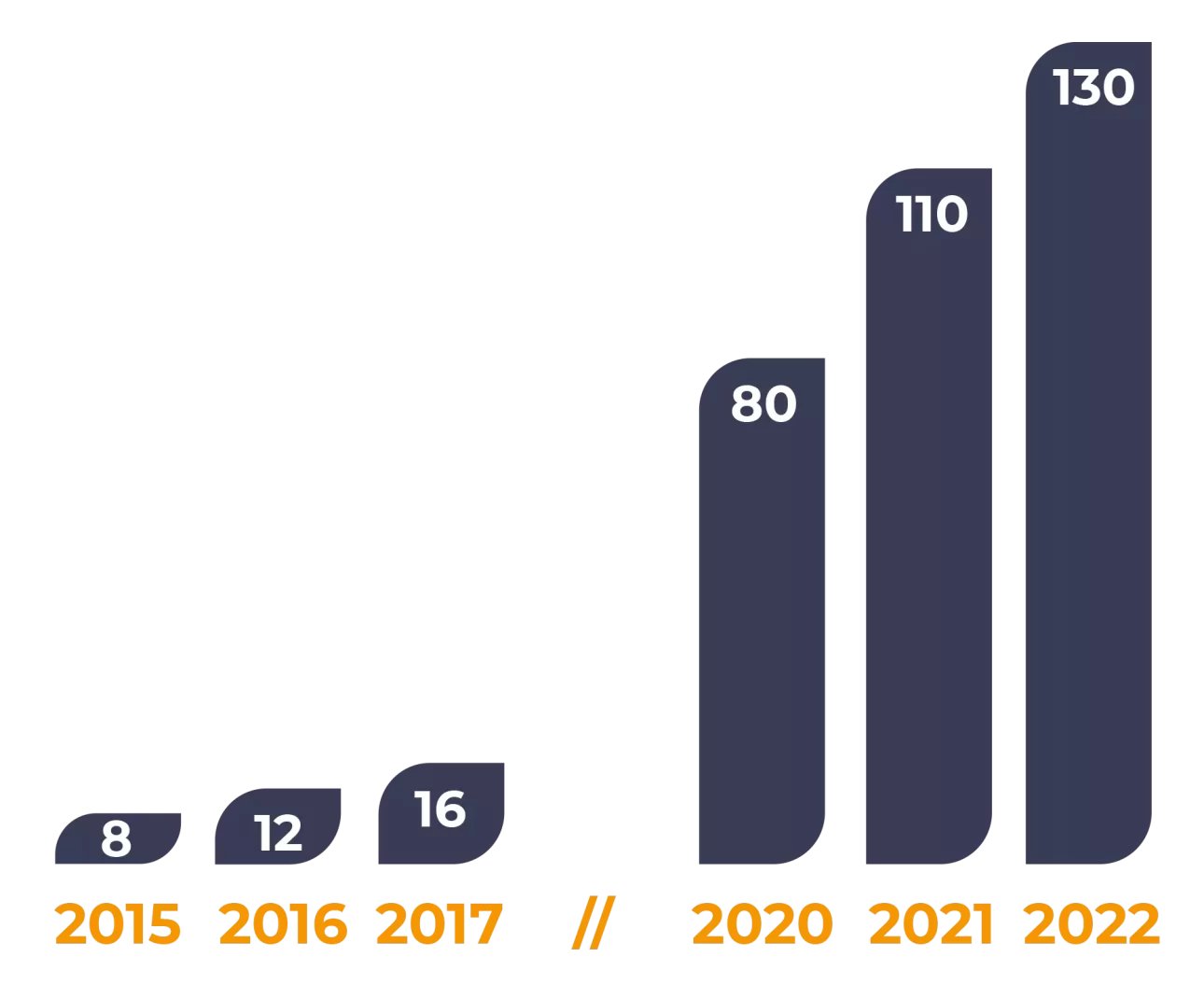 Number of SaaS apps used per company2
The same report indicates that the rise of the cloud will continue unabated in the coming months and that soon SaaS will be the only way most organisations use software.
For Digital Asset Management, the cloud is also the most popular choice, due to the levels of performance and security that the cloud – if certified – guarantees.
THRON is entirely in the cloud, residing on EU servers and delivered in SaaS mode. This means that:
there is no need to install or maintain the platform
the solution scales and adapts to the needs of the moment (such as traffic peaks)
assets are accessible and distributed at peak performance on every device in the world.
Furthermore, THRON is ISO certified and guarantees an average service availability of 99.9%.
Click here if you are interested in learning more.
1 2023 State of SaaSOps, 2022, BetterCloud.
2 2023 State of SaaSOps, 2022, BetterCloud.

(Digital) Ecosystem
"A digital ecosystem is an environment, physical and virtual, within which users are able to exchange information in a dynamic and complex manner".
(Translated from Italian – Sentieri Digitali)
The increasing use of cloud and SaaS tools makes it increasingly necessary to focus on building an ecosystem that avoids the creation of silos.
What are silos? Digital corners of the company where people work in watertight compartments, with different and non-integrated tools.
Creating, maintaining and protecting the digital ecosystem will be one of the main tasks of the IT area in 2023, whose budget will tend to increase3 in order to make the tools used more orchestrated and foster business innovation.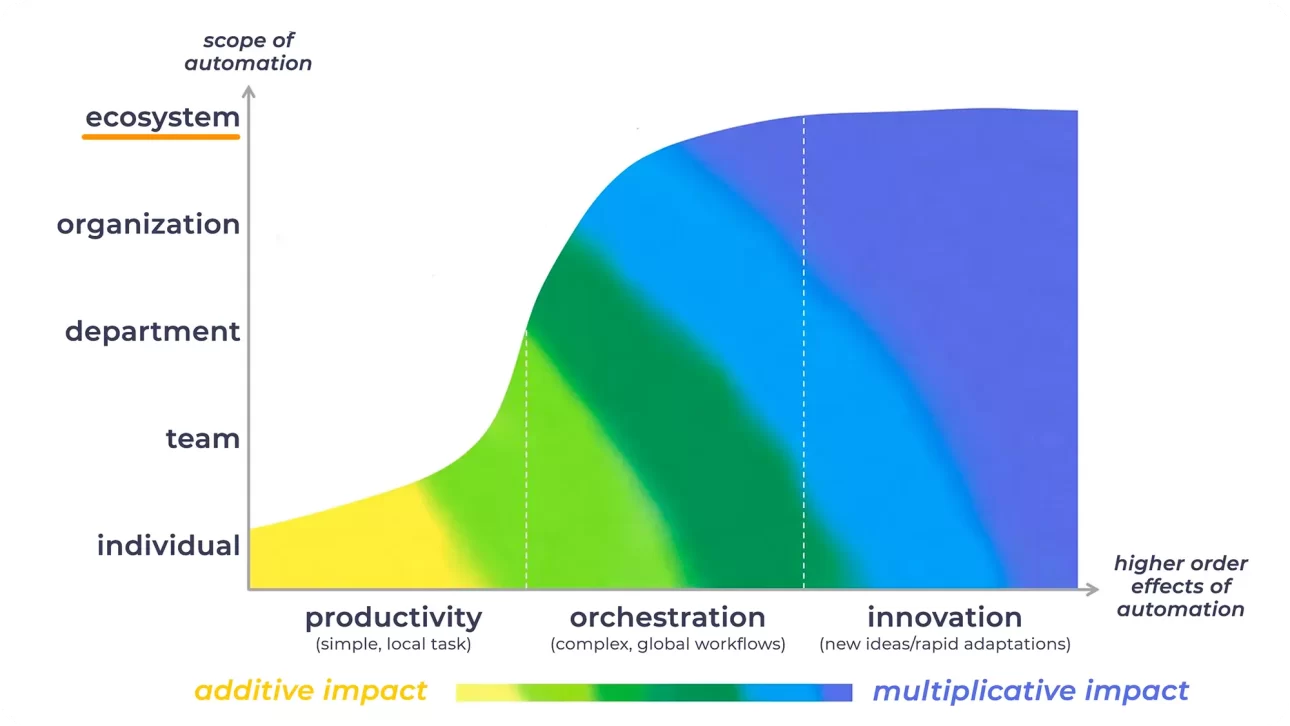 Impacts of automation of business processes4
It is no coincidence that one in four IT team members5 defines the strengthening of collaboration between their department and the various teams as their top priority, especially in order to eliminate application silos (the so-called 'Shadow IT'6) that steal efficiency and multiply IT security risks.
We – as well as discussing this in the last issue o NORTH, our newsletter dedicated to the world of digital assets – have long been aware of the centrality of this issue.
This is also why we are very proud of THRON 7, the generation of the platform that will increasingly contribute to a centralised management of contents, products and processes, reducing the number of tools in use by organisations and making their digital ecosystem even more robust.
3 2023 State of SaaSOps, 2022, BetterCloud.
4 Grafico tradotto dall'articolo High order effects of automation in Big Ops, 2022, ChiefMarTech.
5 2023 State of SaaSOps, 2022, BetterCloud.
6 Tech stacks are still large, but orchestration can make all the difference, 2022, ChiefMarTech.
MarTech
"Marketing Technology (also known as MarTech) is a set of software solutions used by marketing leaders to support mission-critical business objectives and drive innovation within their organizations".
(Gartner)
The market for Digital Asset Management software will grow at an average rate of 13.6% between 2022 and 2027, when it is expected to reach a total value of 8 billion7.
Consistent with the Digital Ecosystem concept just described, these data should be considered with the framework in which they fits, that of MarTech solutions, in mind.
Scott Brinker, a global guru on the topic, has for years been monitoring the relentless growth of the ever-growing niche of IT solutions dedicated to marketing, which today include tools for managing social media, advertising, e-commerce, data, products and, indeed, contents.
At the end of 2022, MarTech counted almost 10,000 tools, a number that had grown by 24% by 20208.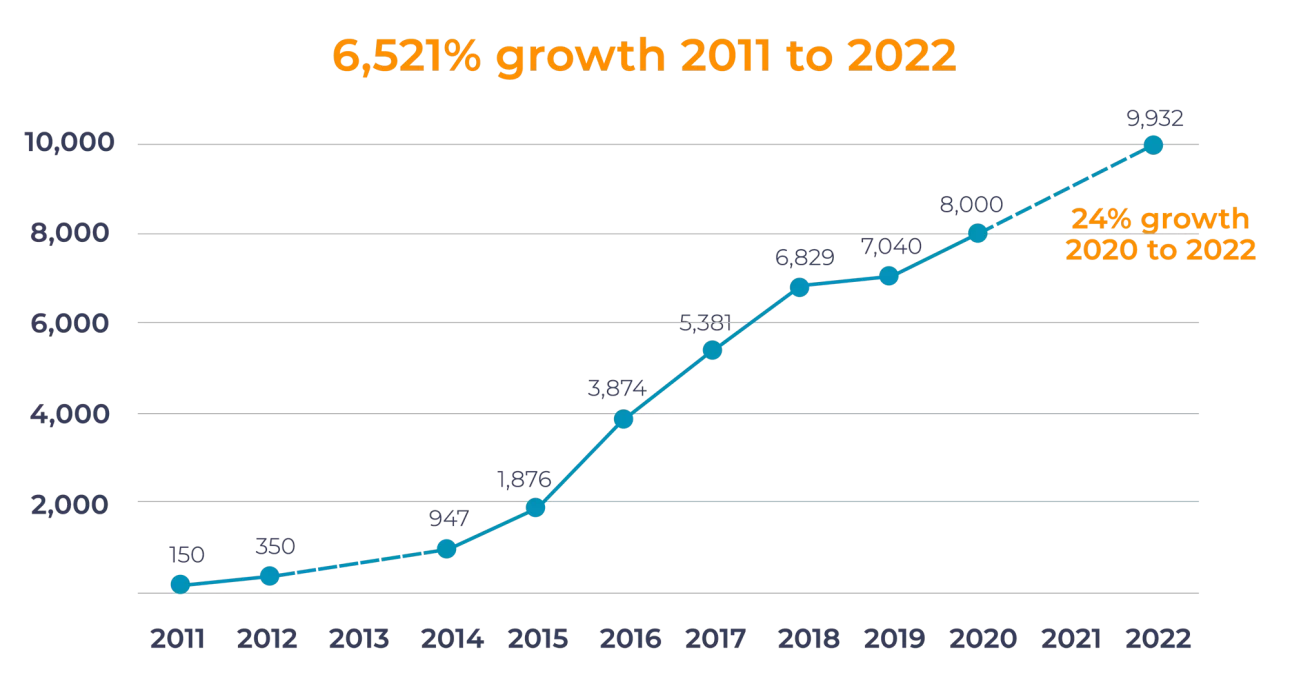 Growth of MarTech tools on the market9
Just like the world of software, MarTech will continue to grow in the coming years, becoming more and more strategic and decisive for the success of marketer' initiatives10 and driving 68% of them to increase their investments in marketing technologies in 202311.
For companies, while the opportunities to digitise processes will grow, there will also be an increasing need to adopt holistic platforms; returning to Digital Asset Management software, capable of positively impacting the entire lifecycle of contents and products.
7 Digital Asset Management Market by Component (Solutions and Services), 2022, Markets and Markets.
8 State of MarTech, 2022, Chief MarTech
9 Marketing Technologies Landscape 2022, 2022, ChiefMarTech.
10 Think the MarTech landscape is big? Here's the size of the software industry overall, 2022, Chief MarTech.
11 68% CMOs aim to boost MarTech spending: Report, 2022, Gartner via CIO Economic Times.
No-code
"No-code is a software development approach that requires few, if any, programming skills to quickly build an application."
(Tech Target)
As cloud, SaaS tools and MarTech ecosystems increase their relevance within organisational boundaries, the involvement of the IT area becomes increasingly crucial.
Although cloud and SaaS tools lighten the workload of the area, exponential digitisation pushes departments to be more and more demanding in terms of integrations and automations between systems.
Both of these activities are crucial for productivity and business efficiency and are carried out in 53 per cent of cases by IT staff12. In 75% of cases, however IT people are overburdened by long task backlogs that force them to take more than 90 days to complete an automation13.
From this point of view, no-code is a great support, capable of lightening the workload of the IT department and, at the same time, increasing the autonomy of automation development for everyone else.
In particular, according to marketers, using no-code tools brings three main benefits:
increase adaptability to business needs (59%)
enable customisation of the tools used (54%)
foster collaboration between colleagues and different teams (47%).
Benefits of marketers from using no-code tools14
It is also for these reasons that we at THRON have long been aware that the most effective software platforms are those that minimise the code required to create and take part in processes, just as Workflow.
12Who Builds Automations – MarTech for 2023, 2022, ChiefMarTech.
13 Information / Week Survey – MarTech for 2023, 2022, ChiefMarTech.
14 Marketing Trends Report, 2022, Airtable.
These were only the first 4!
Would you like to read the second part of this article with the other 3 keywords on Digital Asset Management for 2023? Click here!