More web traffic means more and higher value assets to be created, organised and distributed, strictly in collaborative mode.
This is why workflows are an essential part of a digital asset management system, able to combine control and flexibility, and why their importance is destined to grow even more.
For both creative agencies and production companies.
Digitale communication: a boom that goes on and on
As we write this article, every second (e-v-e-r-y s-e-c-o-n-d!) 95,000 videos are viewed on YouTube, 1,150 images on Instagram and 101,070 web and e-commerce site searches are performed on Google1.
Standing out in the midst of all this traffic is complex.
The average attention threshold is no more than 8 seconds2.
And to position themselves in consumers' minds, brands in every sector play a constant game of capture the flag fuelled by the production of new assets that have to be created, published and organised in the right way.
In this blog, we have already talked a lot about the amazing growth in the number of contents in circulation on digital channels in recent times. And about the consequences of this for the DAM Platform market.
1 Internetlivestats.com
2 Distratti cronici, la nostra soglia di attenzione dura 8 secondi, 11 novembre 2020, La Repubblica.
Collaboration as the keystone of digital asset management
Nowadays, many agencies and companies are using centralised digital asset storage solutions.
However, the importance of the activities involved in the creation and approval of these contents is often underestimated.
People tend to overlook falls in productivity caused by an unstructured exchange of feedbacks (via chat or email, for example). No consideration is given to the resources needed to manage different versions of the same file. Nor the time spent approving a content.
However, minimising the costs of the editorial management of contents is crucial, because guaranteeing the agility of digital assets' lifecycle increases contents' ROI.
Basically, if an asset costs me less to manage its overall performances will be better.
For this to be the case, the following are required:
there must be digital processes, that is workflows
workflows must be flexible and those involved must be able to manage them independently
workflows must be integrated in the digital asset management (DAM) solution.
After defining what a workflow is and providing an overview of possible marketing process management scenarios, we will examine two case studies to illustrate why flexible workflows integrated in digital asset management are crucial for the future of marketing.
The digital DAM workflows
But what is a workflow? A workflow is literally a process, a digital flow of work.
In content marketing, workflows are the flows of activities that lead, through collaboration between different teams, to the creation and approval of digital assets such as images, videos, audios or documents.
Marketing process management
Whether or not they are aware of it, almost all marketers take part in approval processes.
But with some differences.
In this chart we schematically classify the different modes of collaboration within marketing teams, on the basis of two fundamental concepts: control and flexibility.
No workflow. Without control and flexibility, the level of collaboration is minimal and there are no approval processes as such and certainly no workflows.
Unstructured collaborative tools. This is the situation of marketers who, although they take part in approval processes, do not collaborate with each other by means of workflows integrated in the overall management of contents. Feedbacks are exchanged by means of tools such as email and company chats, flexibly but without any formal structure. Contents are managed and approved quickly but separately from the DAM system. These tools provide flexibility but imply a total lack of control of the approval flow.
Rigid workflows. This category includes marketers who, although they have workflow tools, work in accordance with flows predefined at a high level, with a complex configuration which individual users cannot manage independently. These tools' main limitation is this lack of flexibility for users. Although they are able to keep workflows under control, they can only participate in them passively and not shape them to their needs.
Flexible workflows. The category comprises the ideal scenario for marketing processes: full control and total flexibility. Collaborating by means of flexible workflows allows users to structure activities in accordance with their objectives while still monitoring their current status in real time. In fact, these solutions are defined in this way because every workflow can be configured independently, in no code mode, with no need for familiarity with programming languages.
The win-win solution for marketing collaboration also embraces DAM Platforms, which include workflow functions that fit into this last scenario, guaranteeing flexibility and control through assets' entire lifecycle.
And this is where the future of marketing lies. In both agencies and production companies.
Two case studies for flexible DAM workflows application: agency and company
Let's take a close look at flexible workflows through two practical case studies.
Use case #1: why a creative agency needs flexible workflows
Envisage a creative agency that produces images, videos, audios and documents for dozens and dozens of clients.
On receipt of a brief, its creators get to work to produce digital assets, which must be approved by various roles within the client brand organisations.
An approach without workflows complicates the collection of feedbacks, which happens in an unstructured way, making accurate analysis of the progress of activities.
With a rigid workflow, on the other hand, although the activities to be performed are structured and tracked, it is difficult to customise the digital workflow for every single client.
For example, to add a different approval step or change a rule for establishing whether or not an asset can be considered approved, the marketers have to call in colleagues from the IT area or external consultants who know how to code.
For a creative agency, a flexible workflow is important for at least three reasons:
it enables every member of the team to collaborate in an agile way
it enables every single workflow to be customised, to every specific client's needs very rapidly
it allows each client to be assigned differentiated rights of access to the relevant workflows and contents, guaranteeing complete confidentiality.
Use case #2: why a multi-brand company needs flexible workflows
Now let's envisage a multi-brand production company that communicates via various digital channels: web and e-commerce sites, digital catalogue, social media, and so on.
In this organisation, digital assets are being produced all the time and effective management of workflows is advisable, first and foremost to group together activities that share a common objective. For example, the group's marketing activities may be organised by brand, with dedicated workflows (such as for new product launches) for each of them.
This scenario requires structured but flexible digital workflows that enable both in-house teams and external players like photographers or agencies, who need to have access and viewing rights on differentiated workflows, to collaborate and to design new workflows in a completely independent way.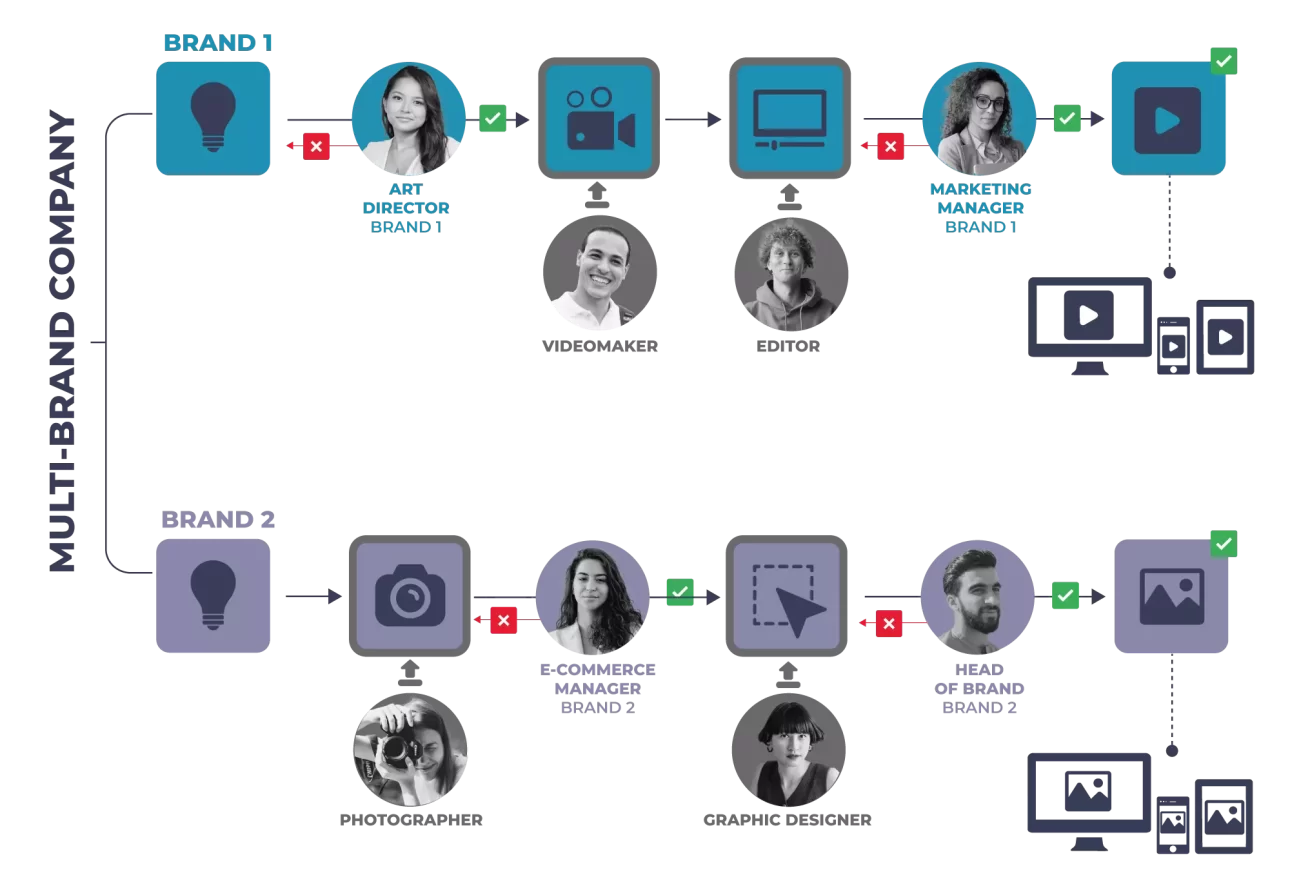 Here again, flexible management of workflows must be enabled by the DAM Platform.
In fact, if the solution where assets are stored is the same as the one where they are approved and distributed on the final channels, the company will benefit from automatic updating not only of its hub but also of its touchpoints.
In practical terms, for a workflow that has the creation of a visual for a new product photograph as its objective, it can be established that after approval by one or more designated people, not only will the asset be published in the DAM, but it will also – automatically – replace the old image already published on channels such as the web and e-commerce sites and digital catalogues.
This means that DAM platforms that offer flexible workflow functions are the future of marketing, because they increase productivity and reduce time to market.
DAM workflows: a successful and essential combination for digital assets
So it is essential to move beyond a basic DAM system and choose a DAM software that also incorporate MRM features, for all-embracing management of marketing resources.
This is what THRON does: as well as managing all digital assets, it is strongly collaboration-oriented. Therefore, via the Workflow, expansion, it enables the construction of coherent, flexible no-code workflows.
An accolade that is very important to us, because it confirms the versatility of THRON and its expansions. As well as providing the management of digital assets – like any DAM package – THRON enables workflow management to maximise the collaboration between colleagues, the key objective of MRM tools.
This is one of the reasons why Forrester has included THRON in its "Now Tech: Marketing Resource Management 1Q 2022" report, an overview that recommends 28 MRM solution providers at the global level.
These features are essential for managing priorities without forgetting deadlines, preventing the noise generated by the lack of control, and avoiding the use of unstructured tools for sharing and requesting feedback.
In other words, user companies enjoy the benefits of collaboration extended to digital assets' entire lifecycle: from creation to distribution on the final channels, by way of their approval and organisation.