If you are here, you probably want to put your company's product data in order.

> Don't you? Hmm, then you could be many things; a customer, a partner or, why not, a competitor. Either way, stay: we are glad to hear from you.
Product data, we were saying.
There has been a lot of talk about PIM and eCommerce for a long time.
We too have written an in-depth article on the delivery of Product Information Management tools.
There are at least three things, however, that PIM software vendors often forget to mention.
Why talking about PIM eCommerce is not enough
PIM is often narrated on the web as the panacea for product data issues.
Nothing wrong with that, for goodness sake, but it is a partial, limiting and somewhat selfish view.
This approach, in fact, puts the company's needs at the centre instead of its reason for existence.
Its customers.

Changing the usual PIM perspective for eCommerce
The jump we want to make in these lines is from the first to the second scenario depicted in the diagram.
At the top, we start with the problem of managing data and respond with a PIM to publish on e-commerce and reach the customer.
At the bottom, on the other hand, we start with the customer (and his experience, the CX) considering that he ranges across many channels (eCommerce, marketplaces, portals, catalogues) to benefit from a product sheet also consisting of product data.
This change of perspective helps us reflect on three aspects often underestimated by those who buy and sell a PIM.
#1 Your customers are everywhere
The journey that every single customer takes before becoming a customer is long and intricate. Also unique.
There is only one element that unites the journey of all customers: multichannelity.
Has it ever happened to you in a store to caress the packaging of a product illuminated by bright promotional screens as you search for information on sites and compare prices on e-commerce and marketplaces? Your customers have.
A PIM for publishing on eCommerce is a good solution.
A PIM to publish on eCommerce and all touchpoints where your company is present is a good solution.
Consider the Product Information Management tool the means to govern product information on as many channels as possible because your company's customers are everywhere.
Even on eCommerce. Also, but not only.
#2 For buyers, data is not enough
The name of a product allows one to identify it, the description to understand it, the price to evaluate its purchase.
But it is often photos, videos and data sheets that make the difference.
A multimedia content, in fact, has a decisive impact in telling, positioning and exciting a product.
In eCommerce, as well as between the pages of a catalogue, marketplace, portal or website, there are always two souls shaping the buying experience: product information and digital assets such as photos, videos and documents.
A PIM is born to manage product information. Most vendors offer tools that merely do this.
To take a customer-oriented view, therefore, you may also need a Digital Asset Management tool.
#3 PIM e-commerce is not a silo
There are more and more apps and software in organisations. Consequently, the volume of information in circulation is also increasing.
A Product Information Management tool has the task of centralising product information that is often scattered across many different tools such as ERP, PLM and spreadsheets.
Data created ad hoc by different teams, such as marketing or technical descriptions, also flow into a PIM.
The solution for managing product data must therefore be embedded within a digital ecosystem. The PIM, in other words, must be made accessible to the entire company and must dialogue with the entire IT stack, without manual effort or friction.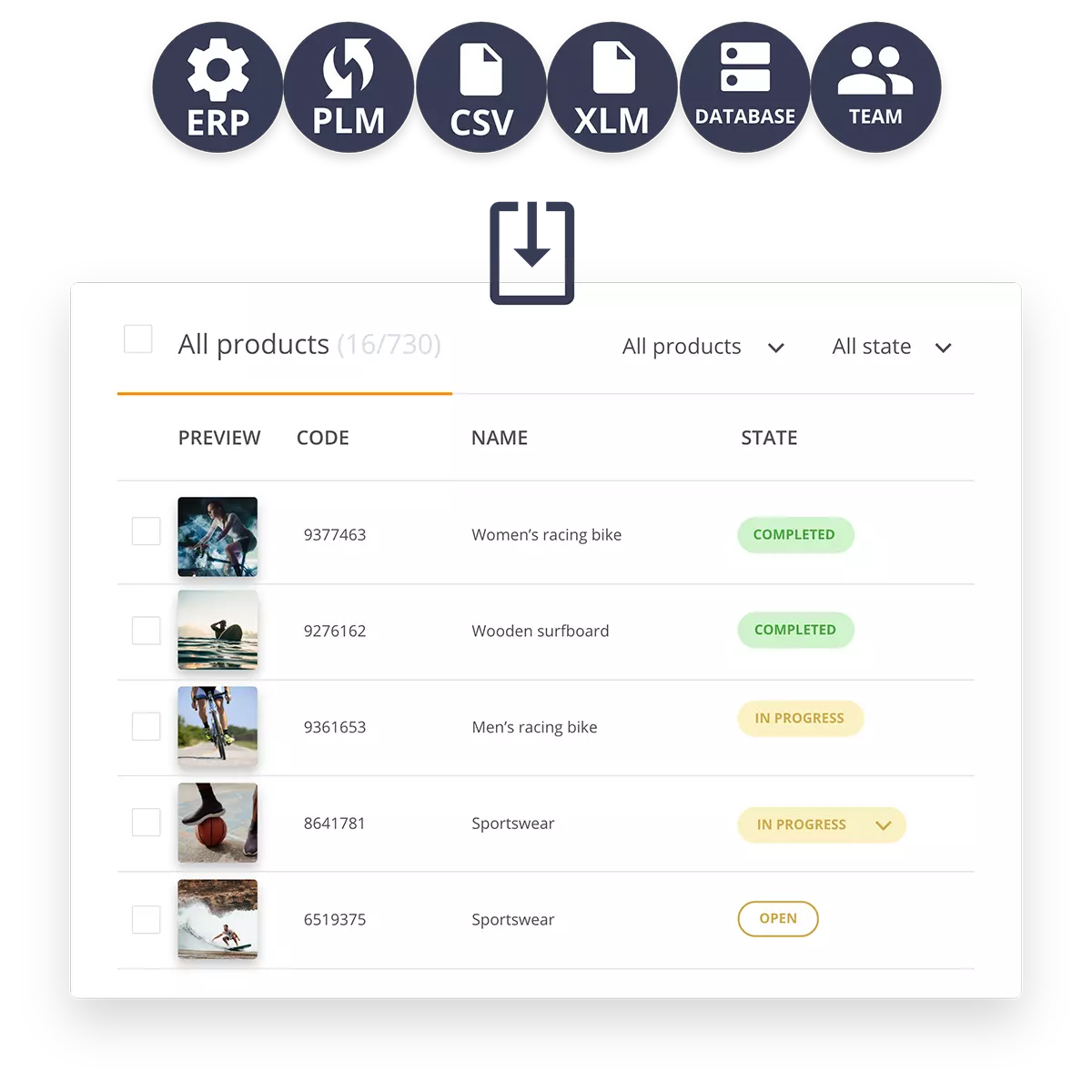 PIM for eCommerce to DXP for the customer
Adopting a PIM for eCommerce, therefore, is not wrong but it is a choice to be made bearing in mind that:
there are other channels besides e-commerce
there are other tools in the IT stack besides PIM
there are other key elements for the customer experience: digital assets.
Can we summarise these thoughts in one word? DXP.
The acronym, which stands for Digital Experience Platform, indicates an approach that fuses business and technology with the aim of guaranteeing every customer an experience of the highest possible quality.
Mind you, the term platform is not intended in its classic conception, but as an ecosystem of applications – preferably a few, well-integrated ones – that communicate perfectly with each other, with positive effects for everyone: internal teams, partners and customers.
PIM and eCommerce: this is how we see it
The emphasis on people and technology is certainly not something we at THRON have invented.
In fact, change is almost always driven by new tools and people enthusiastic about using them.
The success and sustainability of a digital transition also goes from there.
For this to be possible, data and digital assets must circulate freely and without duplication, be accessible on the fly by those who need them, and be delivered at peak performance across every communication touchpoint.
This is actually the result of our vision.
A vision that over time we have consolidated and concretised into THRON PLATFORM: the single platform to govern digital assets and product data. On this, we say no more. We have already talked about it quite a bit on this site.