The format of the images you choose, the accuracy of the product data you publish on communication channels, even the number of e-mails you exchange with colleagues and external partners.
The way you manage media content, organise product information and generally collaborate throughout the lifecycle of a digital asset can also make a difference from an ecological point of view.
Happy reading.
DAM and environment: once upon a time, there was PNG and JPEG. Now it is time for WebP
PNG is a very popular image format. According to W3Tech1, appear in 82% of sites.
PNG images have become popular for various reasons.
In particular, in addition to handling the alpha channel (transparencies), PNG is a format that uses compression techniques that do not compromise image quality and avoid data loss.
Among the most widely used formats, JPEG follows closely (78%), which over the years has been progressively preferred to PNG, especially on the web. Although it entails a loss of file quality, in fact, the JPEG format is lighter and better supports online performance.
More recent and less widespread for the time being is the WebP format (8%).
Introduced by Google in 2010, the WebP format is particularly suitable for online pages because it guarantees a quality equivalent to JPEG but weighs between 25 and 34% less2.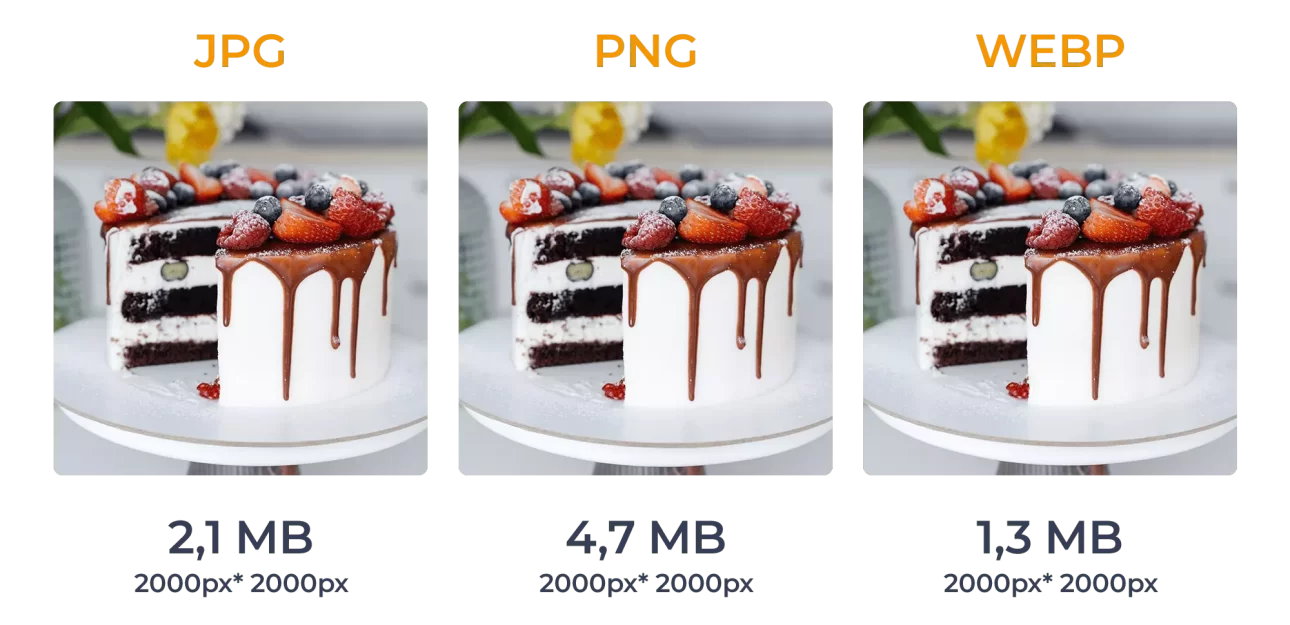 In general, it is well known that lighter web pages improve SEO ranking and user experience.
But it is not just a matter of business or preferences along the customer journey.
If a website is lighter, it means that the server hosting it needs less energy and, as a result, the amount of carbon dioxide generated while browsing it is reduced.
Despite being among the newest image formats, WebP is supported by most browsers.
This means that the use of photos, snapshots and illustrations in WebP enables organisations to converge business and environmental performance.
If you use THRON PLATFORM, remember that you can govern the lifecycle of all your images and distribute their most up-to-date and optimised version on every communication channel.
Whether PNG, JPEG or WebP.
1 Usage statistics of image file formats for websites, 2023, W3Techs.com.
2 An image format for the Web, 2023, Google for Developers. Lo studio, realizzato da Google stessa, è stato messo più volte in discussione e alcuni test hanno dimostrato che in alcuni casi il WebP non è il formato più performante rispetto al JPEG. Se ti interessa approfondire il dibattito, ecco un articolo interessante.
3 Using WebP for SEO in 2023, 2023, Productive Shop.
Your product descriptions are not just pretty words
Returning a product purchased online often only takes a couple of clicks.
The process triggered, however, is almost always expensive for the seller. And harmful to the environment.
The carbon dioxide emissions along the supply chain, the new packaging required, not to mention the disposal of returned products, a choice practised mainly by sellers of low-value goods.
In the US alone, handling returns costs over 5 billion and disposing of some of them generates over 15 million tonnes of emissions4. In UK fashion, it is estimated that for every four items purchased online, one is returned5.
The causes? The delivery of a damaged product (in 59% of cases6), the customer changing their mind after the purchase (42%) and the mismatch between the online description and the real feature of the product (29%).
On this last front, the governance of digital assets can play a key role.
THRON PLATFORM, for example, centralises information on all your products, dialogues with third-party tools such as PIM and PLM, and publishes automatically updated data and descriptions in real time on every touchpoint.
Thus, on digital catalogues as well as on product sheets of retailers, websites or various marketplaces, information is automatically always aligned.

It not only makes workflows more agile, it also lightens dumps, minimises manual errors and reduces return requests, ensuring consistent and coherent information at all times.
4 The unsustainable cost of free returns, 2019, VogueBusiness.
5 I resi dello shopping online: a noi non costano ma all'ambiente sì, 2021, Focus.
6 E-commerce returns: useful statistics and data to avoid them, 2023, ShippyPro.
E-mails: because a digital asset is not just pixel or words
An image, a video or a product description are just the tip of the iceberg of a long collaborative flow. In most cases, the processes and teams involved in creating, managing, sharing, distributing and monitoring a digital asset are numerous.
From requests for approval to the exchange of feedback, from sharing assets to dialogue with creative agencies, translators and photographers, e-mail is often the main vehicle on which files and information travel around the company.

An inefficient vehicle, however. Both from an organisational point of view – because it decentralises digital assets and destructures flows – and from an environmental point of view.  

The CO2 emissions generated by sending just 8 e-mails are in fact equal to those emitted by a car travelling one kilometre7.  

For this reason, a truly sustainable management of digital assets, in particular of processes along their life cycle, cannot disregard the volume of e-mail in circulation.

So what to do?
 
Centralising digital assets, product data, processes in a single platform and distributing them directly and dynamically to customers and partners is a great way to minimise e-mail (and their environmental impact).
7 Le e-mail inquinano: l'impatto ambientale della nostra posta elettronica, 2023, Ademe – Agenzia Francese per l'Ambiente e la Gestione dell'Energia.
Cloud platforms are greener
Security, agility, scalability and, as if that were not enough, sustainability.
These are just some of the goals scored in the match between cloud and on-premises by the cloud.
A match that, to tell the truth, is increasingly boring because cloud platforms have been growing steadily and relentlessly over the last period, with positive impacts on the environment.
According to Accenture8 migrations to the public cloud9 can reduce CO2 emissions by 59 million tonnes per year. That is basically like taking 22 millions of cars off the road.

In the same research, analysts estimate the share of carbon emissions reduction that a cloud platform can provide compared to the same on premises, on several fronts.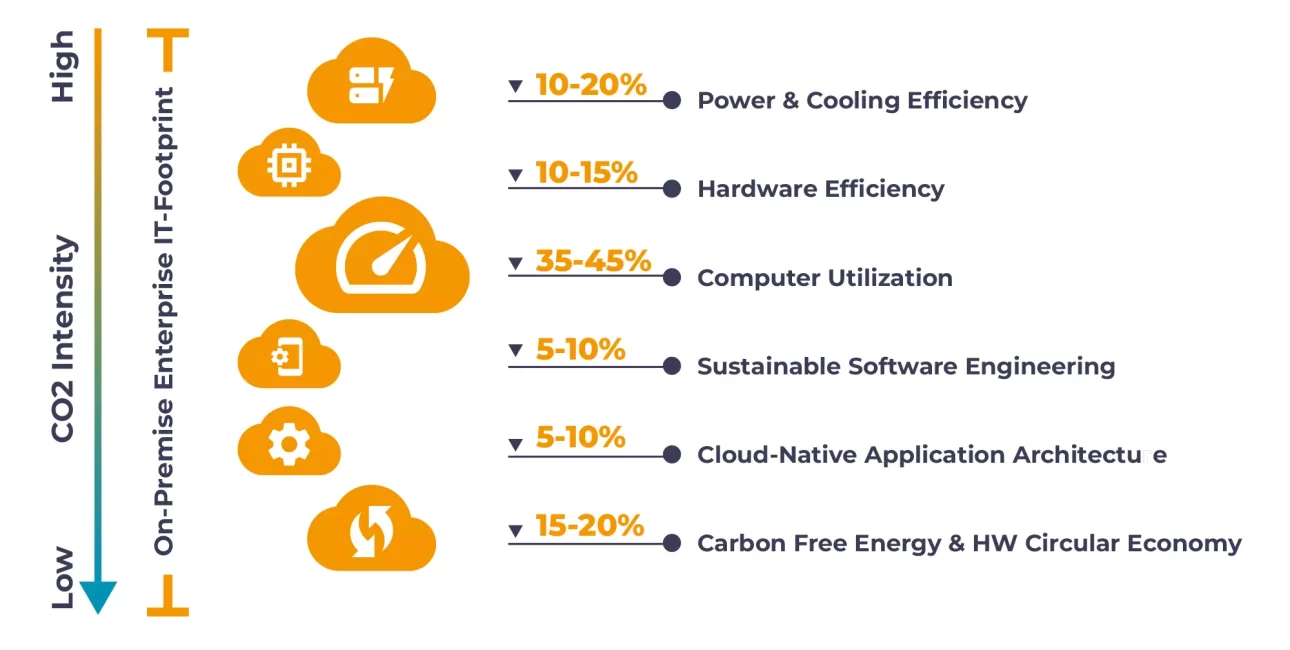 Cloud vs On-premises impatto CO2 – The green behind the cloud, 2020, Accenture
If you want to make the management of your digital assets sustainable, opt for a cloud platform, in favour of cloud-native rather than cloud-enabled solutions10.

THRON, for instance, is a cloud native SaaS platform, naturally prepared and developed for the cloud. With all the benefits this brings in terms of flexibility, resilience and scalability.
8 The green behind the cloud, 2020, Accenture.
9 Sulle definizioni di cloud privato, pubblico e ibrido trovi un po' di informazioni in questa pagina.
10 Cloud native e cloud abilitato, AWS.
And these were just few examples
Can you think of any others? Write us an e-mail. Just one though 😉
And then remember to switch off your PC.

Sustainability is nourished by small gestures.